Sleepovers are an extension of Pals for Pups playcare services. Sleepovers are a slumber party with all of your dogs friends in familiar surroundings, eliminating the separation anxieties and other concerns associated with a traditional kennel setting.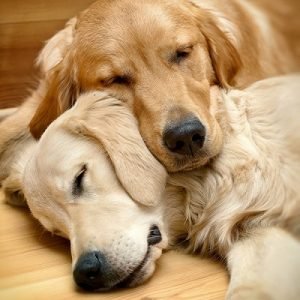 Sleepovers include regular playcare services. Dogs spend the night in an appropriately sized crate for comfort and safety. While dogs are pack animals they also like to have their own special "den", their own special place with their blanket and toy so they feel comfortable and safe.
Crates offer a nice, quiet place for retreat after a long day of play. Rest assured that all of the dogs in our care get special personal attention from our staff. Weekend stays get plenty of playtime each day, so not to worry… they're still running with the pack. In addition to required vaccinations and a temperament test, in the best interest of your pup, one day of playcare prior to sleepovers is required.
Both weekday and weekend bookings are available.
Sleepover Pricing
Beginning March 1, our prices for boarding will increase $1.
$47 per night
$57 per night on holidays
Late Pick Up Fees
$27 additional play care charge for pups who leave after 1 pm on weekdays
$37 additional play care charge for pups who are picked up between 5:00-6:00 pm on Sundays and holidays.
Drop Off/Pick Up Hours
Weekdays
Monday-Friday 6:30am – 6:30pm
Weekends and Holidays
Saturdays 8:00am – 9:00am during COVID
Sundays 8:00am – 9:00am
Sundays 5:00pm – 6:00pm pick up only, all drop offs am only.
DROP OFF HOURS ARE ALWAYS IN THE MORNING
Bring your dogs food to limit bouts of upset tummy.
Bring your dogs favorite blanket and/or toy.
Bring any medications your dog will be on while you are away.