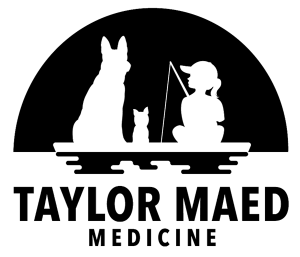 Dr. Taylor received her Bachelor's of Science in Animal Sciences and Doctorate of Veterinary Medicine (DVM) degree from the University of Illinois at Urbana-Champaign.  She now provides veterinary services exclusively for Pals for Pups customers. This has given her the rare opportunity to see her patients on a weekly and even daily basis, which allows her to keep in touch with their families.  
She strives for a low stress environment for her patients by using treats and love without having to wait in a stressful hospital lobby. It has also been a convenience for our customers to have their veterinary appointments taken care of while their dog stays for the day at Pals for Pups where they feel at home.  
Available Vaccines and Tests
Bivalent Flu Vaccine
Bordetella Intranasal
Distemper (DHLPP) Combo Vaccine
Fecal Test for Intestinal Parasites
Heartworm Test
Heartworm/Tick Disease Test
Leptospirosis Vaccine
Lyme Vaccine
Rabies 1 Year
Rabies 3 Year
Wellness and Diagnostic Testing
Please note that vaccines require a 48 hour advance notice.
Please e-mail Dr. Taylor directly for scheduling and inquiries about your pup.

We cannot display this gallery